Central Park Family Fishing Day!
posted on 5/8/23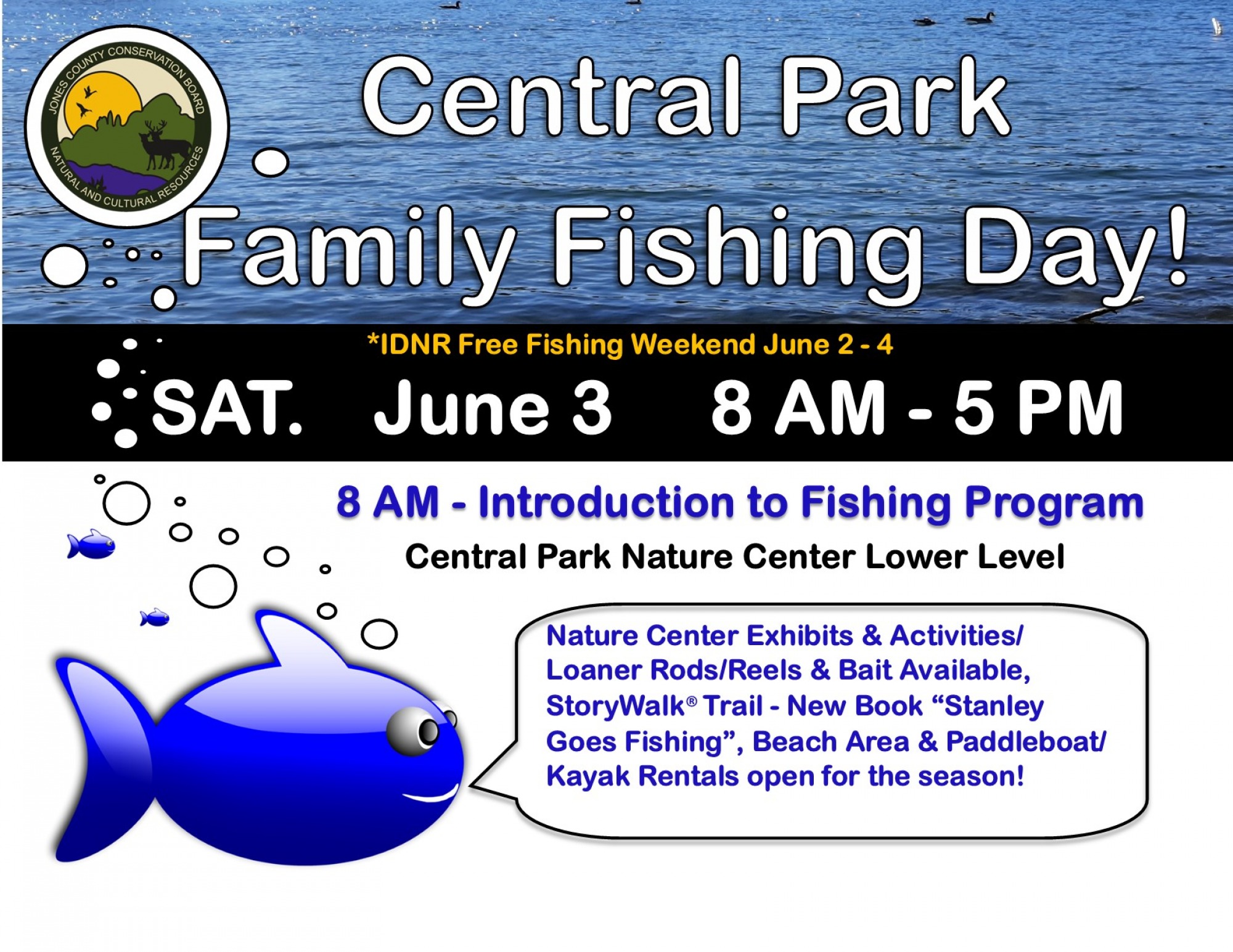 Did you know June 2nd - 4th 2023 is Iowa's Free Fishing Weekend? (All Iowa fishing rules and regulations still apply)
Have you always wanted to learn to fish but never took the time? Here's your chance to give it a try! Attend the Introduction to Fishing program at 8 AM at the Central Park Nature Center. Lear the basics before hitting the water to give your newly acquired knowledge a try. Don't have your own equipment? - No worries! Loaner rods/reels/tackle and free bait will be available for families wanting to give fishing a try.
Load up your family and friends and head to Central Park for a Fun Family Fishing Day on Saturday, June 3rd!
Fishing Activities at the Nature Center/Central Park:
Go fishing at the Family Fishing Area with Loaner Rods and Reels and Bait.
Explore the StoryWalk® Trail as you read the newest book, Stanley Goes Fishing.
Make a cool fish kite at the Nature Center
Get artsy and chalk the Nature Centers walk with fish art!
Test your fish ID IQ.
Bring your sandcastle equipment and beach wear to enjoy the Central Park Beach
Rent a Paddleboat or Kayak from the campground host and take a spin around the lake.
Learn about the parks purple martin colony as you watch them sail over the lake.
Check out the latest Nature Center "Fishing Fun" exhibits. (Nature Center will be open 8 AM - 5 PM, Saturday, June 3rd) (1-5 PM June 4th)
Participate in the Jones County Family Fishing Challenge by taking a picture of your catch and emailing it to conservationofficemg@jonescountyiowa.gov by the end of June.
This event is part of the IDNR Hook N Paddle Passport!
Like to RUN? Join the Jones County Safe and Healthy Youth Coalitions Fun Run/Walk beginning at 8 AM in the Central Park South Side Playground/Pavilion Area. Visit the Jones County Safe and Healthy Youth Coalition Facebook page for more information on how to register for the run event.