Derecho Recovery Tree & Shrub Plantings
posted on 9/13/21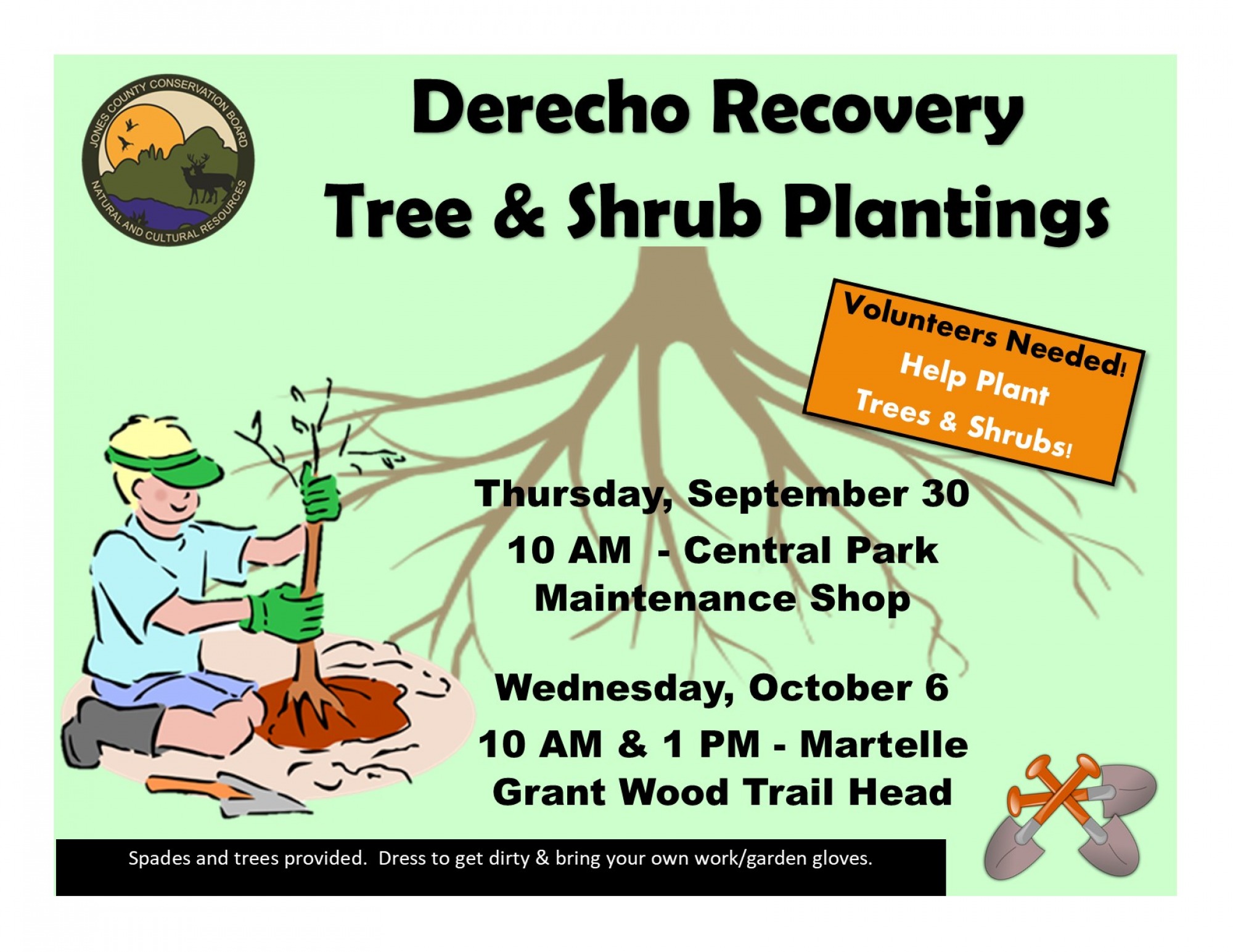 Summer 2020 will be one most of us will never forget! Not that COVID 19 wasn't bad enough, many in Eastern Iowa were also adversely affected by the August 10th derecho. Several Jones County Conservation Board areas received extensive damage from the derecho's extreme winds. Recovery efforts have been ongoing and will continue for several years. Volunteers have been wonderful and offered hands and hearts in the clean-up efforts during 2020 and can once again be involved in upcoming recovery efforts.
The Jones County Conservation Department is looking for interested volunteers to assist with "Derecho Recovery Tree and Shrub Planting" days at Central Park and the Grant Wood Trail in Martelle.
Jones County Conservation received a 2021 Derecho Community Forestry Grant to purchase native trees to replace those lost during the 2020 Iowa August Derecho event. Central Park's tree and shrub planting day will be Thursday, September 30th. Volunteers can meet at the Jones County Central Park Maintenance Shop, near park entrance, at 10 AM.
Martelle's Grant Wood Trail Section planting day will take place on Wednesday, October 6th at 10 AM and 1 PM. Anyone interested in assisting should meet at the trail head.
Wear clothing that can get dirty and bring your own pair of work gloves. All other equipment will be provided. After introductions, project orientation, and general tree and shrub planting instructions, volunteers will help place trees and shrubs into pre-dug holes, cover planted trees and shrubs with soil and mulch, and water plantings.
Please contact Michele at (319)481-7987 or e-mail naturalist@jonescountyiowa.gov for more information or visit the Jones County Conservation Departments website at https://www.jonescountyiowa.gov/conservation/