Jones County Public Health continues to work diligently in conjunction with local and state partners to protect the health of all residents of Jones County during the COVID-19 Public Health Emergency.
COVID-19 Vaccine
Information about the different vaccines available can be found on the CDC website.
Options for receiving your COVID-19 Vaccine:
There are pharmacies across the state offering the vaccine. You may search for them at https://vaccinate.iowa.gov.
The state of Iowa and the 211 call center will assist Iowans who have difficulty accessing technology and/or have no internet access with scheduling appointments. 211 services are available by dialing 211 or 1-800-244-7431.
Your health care provider may be contacting their patients directly to schedule appointments as supply allows.
When You've Been Fully Vaccinated: How to Protect Yourself and Others
Slow the Spread
Until vaccine is widely available to all, it is critical Iowans continue to practice the mitigation measures that can slow the spread of COVID-19:
Wear a mask or face covering
Practice social distancing with those outside your household
Avoid crowds
Clean your hands frequently with soap and water
Stay home when unwell
Get tested if you have symptoms of COVID-19
Individuals who have been exposed to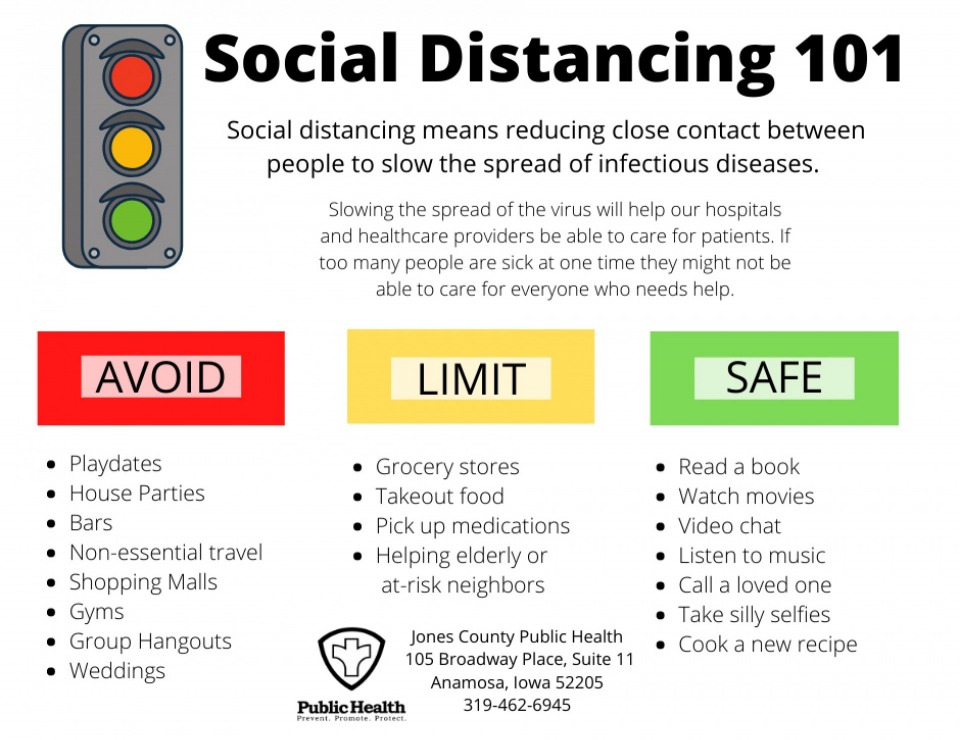 a positive case of COVID-19 are asked to quarantine for 14 days from their last exposure. Additional information on quarantine.
Personal Contract Tracing Worksheet
A public hotline has been established for Iowans with questions about COVID-19. The line is available 24/7 by calling 2-1-1 or 1-800-244-7431.
To access the most up to date information regarding COVID-19 in the state of Iowa, please visit https://coronavirus.iowa.gov.
Additional information may be found on the Jones County Public Health Facebook Page or on Twitter @JonesCoPH.
Map · Jones County Public Health
105 Broadway Pl. · Anamosa, IA 52205