The Iowa Department of Health and Human Services division of public health will end mandatory reporting of COVID-19 positive tests effective April 1. To access the full press release click here.
Statement from IDPH regarding the Omicron variant here.
COVID-19 Vaccine
Information about the different vaccines available can be found on the CDC website.
Pharmacies and healthcare providers in Jones County have vaccines available. Please call ahead to confirm availability of the vaccine you need and schedule an appointment if necessary.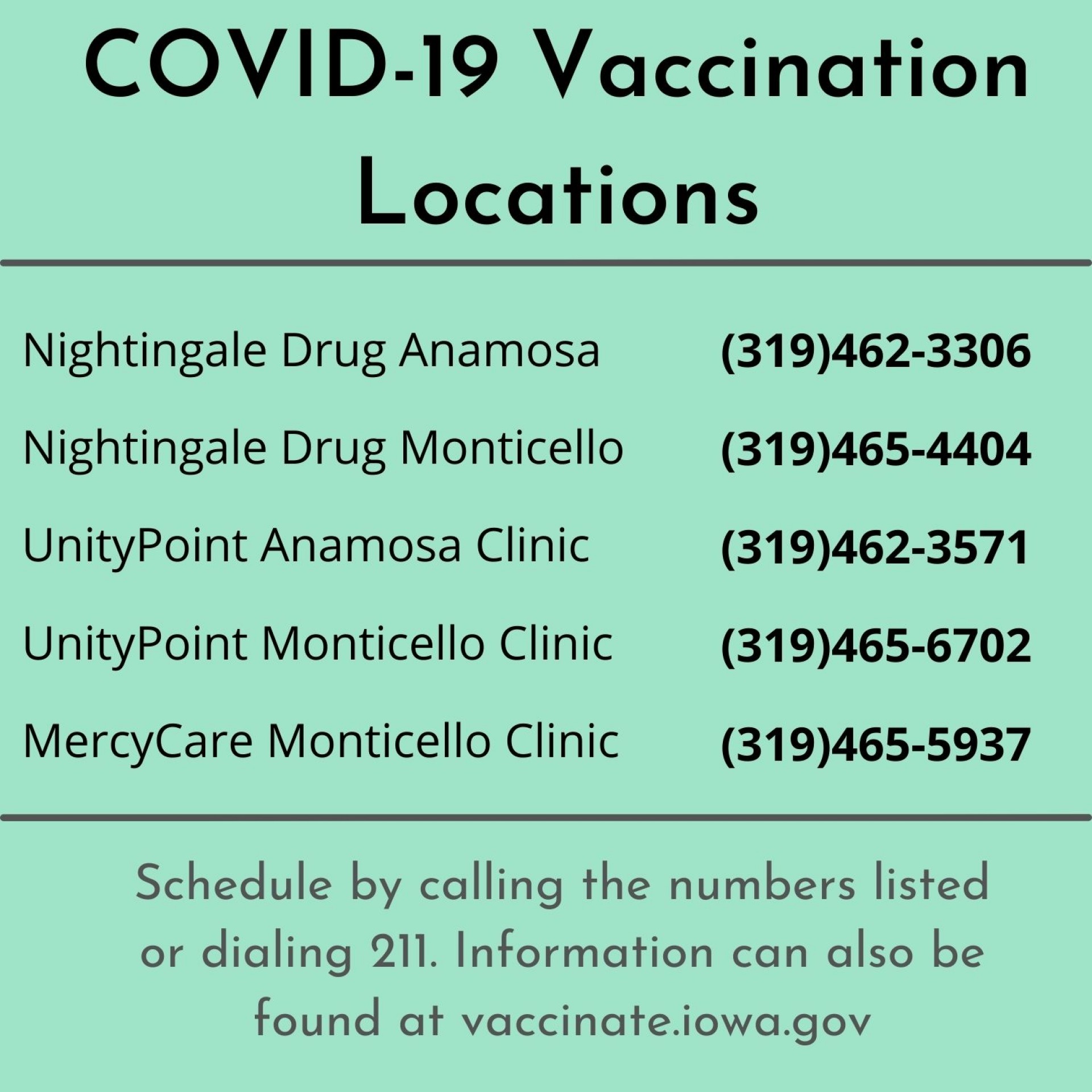 VACCINE UPDATE
January 13, 2023 - CDC and FDA Identify Preliminary COVID-19 Vaccine Safety Signal for Persons Aged 65 Years and Older. "As part of routine surveillance, the CDC's Vaccine Safety Datalink detected a safety signal indicating a slight increase in the risk of ischemic stroke in people aged 65 and older who had received the Pfizer BioNTech COVID-19 bivalent booster vaccine within 21 days of the event. Per CDC, the increased risk "just exceeds statistical significance" but triggered further investigation. No increase has been detected associated with the Moderna bivalent booster vaccine." More information can be found here.
---
December 09, 2022 - Following FDA action, CDC expanded the use of updated (bivalent) COVID-19 vaccines for children ages 6 months through 5 years. Children ages 6 months through 5 years who previously completed a Moderna primary series are eligible to receive a Moderna bivalent booster 2 months after their final primary series dose. Children ages 6 months through 4 years who are currently completing a Pfizer primary series will receive a Pfizer bivalent vaccine as their third primary dose.
Updated COVID-19 vaccines are formulated to protect against some of the more recently circulating viruses.
Most importantly, COVID-19 vaccines are critical to providing ongoing protection as immunity wanes and the virus continues to mutate.
---
October 12, 2022 - CDC recommended the following bivalent booster shots for children: Pfizer-BioNTech booster for patients ages 5-11; Moderna booster for patients ages 6-17. This recommendation follows FDA's authorization of these products on the same day. This announcement rescinded FDA's authorization of the monovalent Pfizer-BioNTech COVID-19 as a booster dose for ages 5-11; however, the monovalent vaccines will continue to be used for primary vaccination in patients that have never been vaccinated against COVID-19. In September, the U.S. Department of Health & Human Services announced that people with public, private, or no insurance coverage can get COVID-19 vaccines at no cost, for as long as the federal government continues purchasing and distributing them. To find nearby locations for vaccines, masks, testing, and treatment, visit COVID.gov.
---
September 2, 2022 - CDC Director Rochelle P. Walensky, M.D., M.P.H., endorsed the CDC Advisory Committee on Immunization Practices' (ACIP) recommendations for use of updated COVID-19 boosters from Pfizer-BioNTech for people ages 12 years and older and from Moderna for people ages 18 years and older.
Updated COVID-19 boosters add Omicron BA.4 and BA.5 spike protein components to the current vaccine composition, helping to restore protection that has waned since previous vaccination by targeting variants that are more transmissible and immune-evading.
August 22. 2022
- CDC Director Rochelle P. Walensky, M.D., M.P.H., signed a decision memo that Novavax's COVID-19 vaccine be used as another primary series option for adolescents ages 12 through 17. This recommendation follows FDA's authorization to authorize the vaccine for this age group under emergency use. Novavax's COVID-19 vaccine, which is available now, is an important tool in the pandemic and provides a more familiar type of COVID-19 vaccine technology for adolescents. Having multiple types of vaccines offers more options and flexibility for the public, jurisdictions, and vaccine providers.
Novavax's COVID-19 vaccine packages harmless proteins of the COVID-19 virus alongside another ingredient called an adjuvant that helps the immune system respond to the virus in the future. Vaccines—like the Novavax COVID-19 vaccine—that use protein subunit technology have been used for more than 30 years in the United States, beginning with the first licensed hepatitis B vaccine. Other protein subunit vaccines used in the United States today include those to protect against influenza and whooping cough (acellular pertussis).
July 20, 2022 - CDC recommends COVID-19 primary series vaccines for everyone ages 6 months and older, and COVID-19 boosters for everyone ages 5 years and older, if eligible.
On June 18, 2022 - CDC Director Rochelle P. Walensky, M.D., M.P.H., endorsed the CDC Advisory Committee on Immunization Practices' (ACIP) recommendation to expand COVID-19 vaccination to children younger than 5 years of age. This decision now universally recommends COVID-19 vaccination for everyone 6 months and older, paving the way for nearly 20 million children in this age group to get vaccinated and allowing providers to begin vaccinating with either the Moderna or the Pfizer-BioNTech vaccine as soon as possible.
Parents with questions are encouraged to talk to their child's healthcare provider, school nurse, or local pharmacist to learn more about the COVID-19 vaccine and the importance of keeping children up to date with all recommended vaccinations.
Below is a list of resources related to the recommendation:
January 7, 2021 - CDC now recommends an additional dose of Pfizer COVID-19 vaccine for immunocompromised children aged 5-11. Also recommends booster shots at 5 months instead of 6 for ages 12 & older. To confirm individual eligibility and schedule your vaccine, you can call your medical provider, pharmacist or 2-1-1.
If you have lost your vaccination card, it cannot be replaced but we can issue a copy of your immunization record. Please request a copy of those here
When You've Been Fully Vaccinated: How to Protect Yourself and Others
Click HERE for a Covid-19 Gemonic Surveillance Video
Slow the Spread
Iowans should continue to practice the mitigation measures that can slow the spread of COVID-19:
Wear a mask or face covering
Practice social distancing with those outside your household
Avoid crowds
Clean your hands frequently with soap and water
Stay home when unwell
Get tested if you have symptoms of COVID-19. Use the CDC COVID-19 Testing Tool to understand your testing options. A test kit can be picked up at our office from 8:30am - 4:00p M-F. You can also request an at-home test kit through the State Hygienic Laboratory.
Is it the flu or COVID-19? Get answers here
Map · Jones County Public Health
105 Broadway Pl. · Anamosa, IA 52205