Jones County Public Health continues to work diligently in conjunction with local and state partners to protect the health of all residents of Jones County during the COVID-19 Public Health Emergency.
COVID-19 Vaccine
Jones County Public Health acknowledges there is a lot of information and uncertainty regarding vaccine availability. We want to assure you we are following the Centers for Disease Control and Prevention's (CDC) Advisory Committee on Immunization Practices and Iowa Department of Public Health's (IDPH) Iowa Disease Advisory Committee for vaccine prioritization. Information about the vaccines can be found on the CDC website.
If you are interested in receiving the vaccine when it becomes available for your group, please fill out this form.
Slow the Spread
Until vaccine is widely available to all, it is critical Iowans continue to practice the mitigation measures that can slow the spread of COVID-19:
Wear a mask or face covering
Practice social distancing with those outside your household
Avoid crowds
Clean your hands frequently with soap and water
Stay home when unwell
Get tested if you have symptoms of COVID-19
Individuals who have been exposed to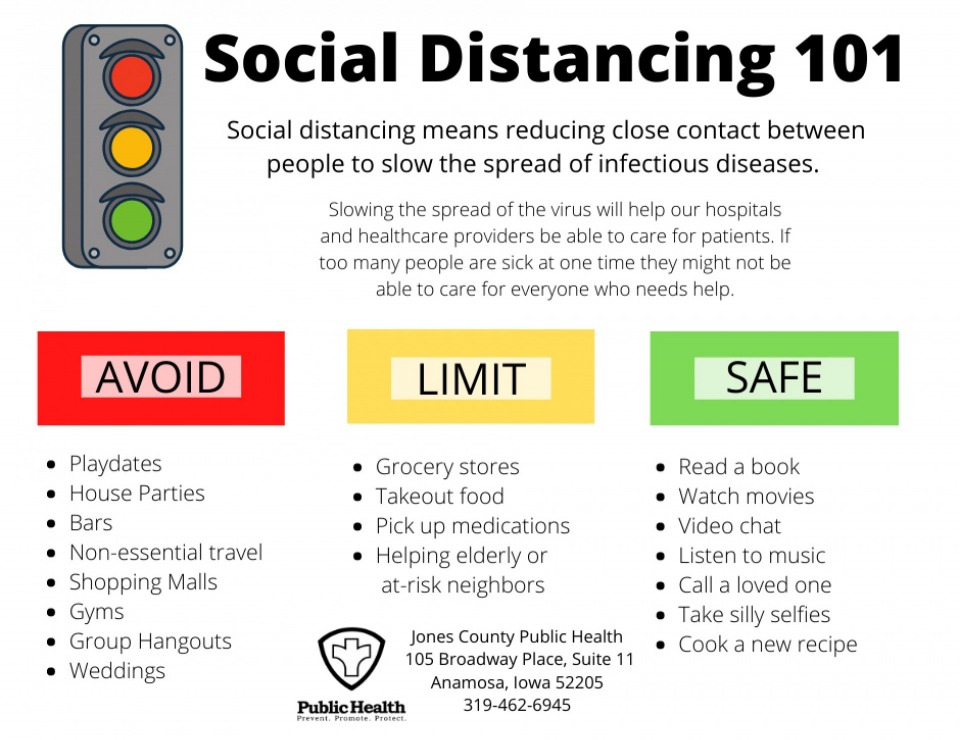 a positive case of COVID-19 are asked to quarantine for 14 days from their last exposure. Additional information on quarantine.
Personal Contract Tracing Worksheet
A public hotline has been established for Iowans with questions about COVID-19. The line is available 24/7 by calling 2-1-1 or 1-800-244-7431.
To access the most up to date information regarding COVID-19 in the state of Iowa, please visit https://coronavirus.iowa.gov.
Additional information may be found on the Jones County Public Health Facebook Page or on Twitter @JonesCoPH.
Map · Jones County Public Health
105 Broadway Pl. · Anamosa, IA 52205