The Maquoketa River - North Fork
The North Fork of the Maquoketa River passing through Jones County gives one the opportunity to imagine oneself in true wilderness. Averaging 70 feet wide this shallow stream is characterized by a sandy bottom sometimes interspersed with rocks and boulders below steep bluffs and wooded shorelines.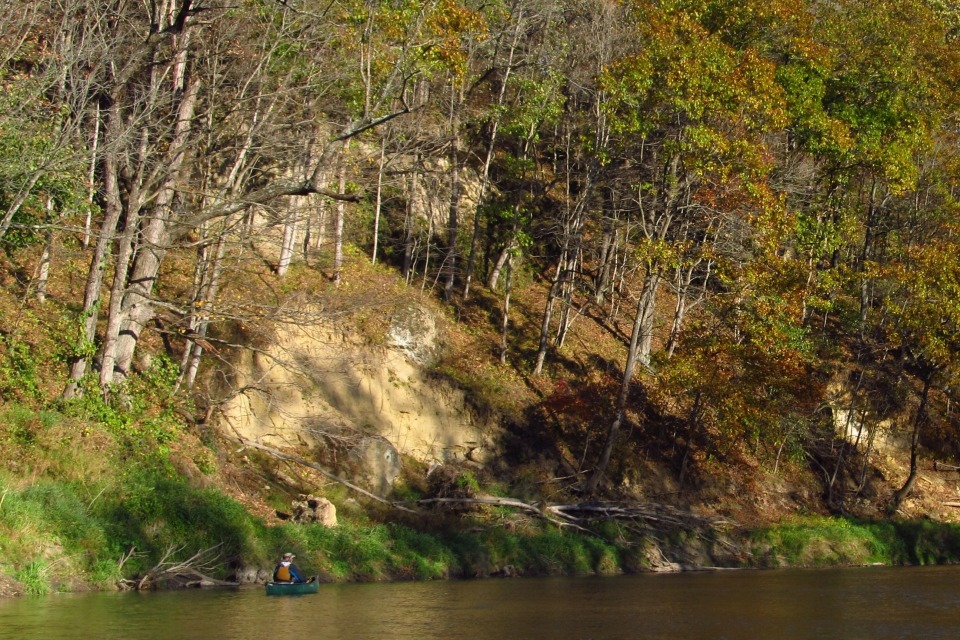 The North Fork begins in Dubuque County north of Holy Cross, swings into Delaware County then enters Jones County in Cascade before heading into Jackson County and joining the Maquoketa River near Maquoketa. Cascade, according to local lore, was named for the 9 foot, double tiered waterfall that flowed in the middle of town near the current dam's location. Pre-1925 postcards are some of the only reminders of this namesake. Flood control measures led to the creation of the current channel, dam, and bridge and the demise of the waterfall.
From Cascade downstream paddlers will enjoy the agricultural and small town views before entering a long and pristine stretch of inaccessible wilderness, roughly 18 miles between access points.
On the eastern part of the Southern Iowa Drift Plain this area depicts typical "Karst" topography with sinkholes, springs, and caves. Known for its impressive bluffs and scenic beauty this river is a favorite of many seasoned paddlers.
Paddlers on this stretch of river will pass through and by both the North Fork Wildlands Wildlife Area and Searryl's Cave State Preserve.
Named after the original homesteader, Searryl's Cave, twisting 565 feet underground, is known for its large colony of hibernating bats. To protect the bats, entry into the cave is currently prohibited.
At the end of this 18-mile stretch paddlers, can take out in Jackson County at the Ozark Bridge on 21st Ave or at Caven Bridge Access on 60th Ave.
Maquoketa River Paddler's Guide
Warning
Entering Jones County in the town of Cascade, paddlers should portage around the Dam found in the center of town. Use extreme caution near the Dam in Cascade. Low head dams are extremely dangerous. Uniformly falling water below the dam scours holes where the water recirculates trapping its victims underwater. People should not venture over, on, or close to these structures or will risk drowning.
River Access
The North Fork of the Maquoketa River cannot be accessed from a spot in Jones County. Please view the Iowa DNR map for river access options in neighboring counties.
More Jones County Canoeing