Eby's Mill Timber Stand Improvement Project
posted on 3/16/21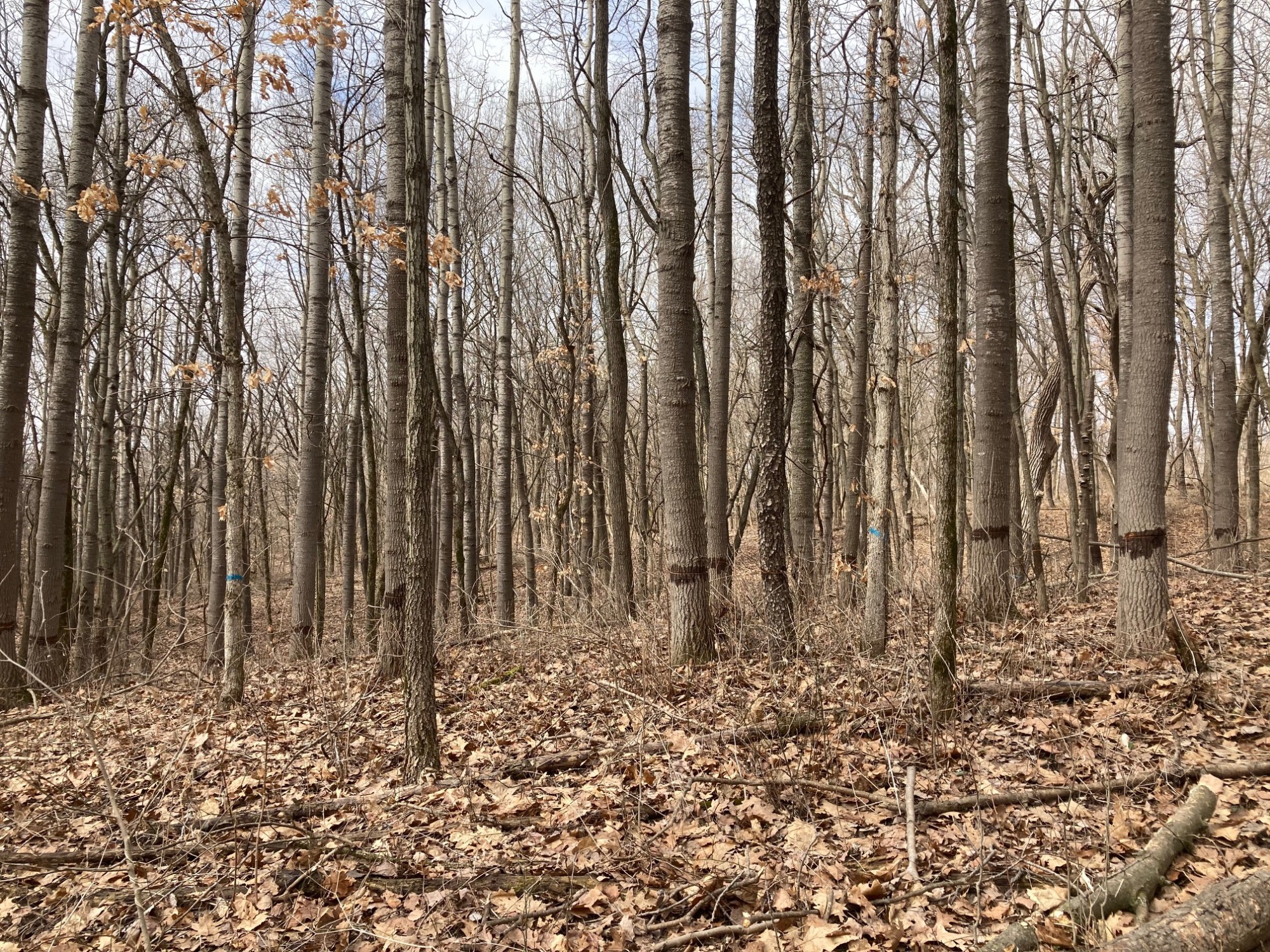 Have you been to Eby's Mill Wildlife Area lately?
There's a project happening called, Timber Stand Improvement, or TSI. TSI occured as part of an ongoing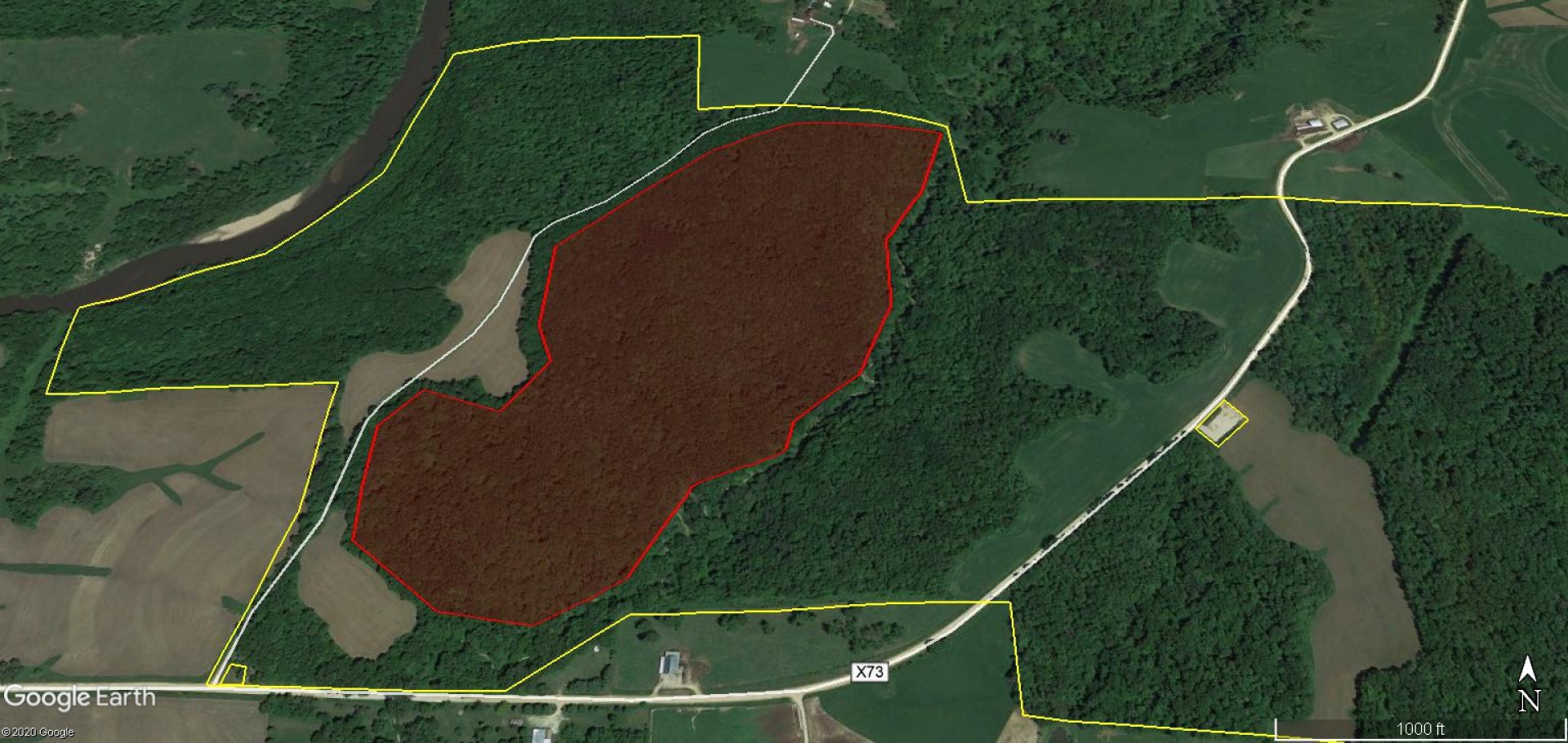 management plan to promote the healthy growth and regeneration of a hardwood forest. Jones County Conservation is specifically working to provide relief to valuable species including oak, hickory, and walnut by removing shade tolerant understory trees, such as maple, hackberry, aspen, and basswood. Thinning and removing these species frees up resources in the soil and sunlight real estate in the canopy for the more desirable black walnut, white oak, and shagbark hickory, for example. This process is similar to pulling weeds from your garden; removing competition from around the vegetation that you want to grow and produce as much as possible. And much like a garden, in several years when the trees have fully matured, they too can be harvested.
This management plan is a continuation of work that had been done over many, many years under the previous ownership: the Arnie Bruggeman family. They managed much of the land for the same species, thinning the woods from year to year to reduce competition, harvesting when acorn and nut crops are high, replanting and so on. They even developed a simple method of harvest and regeneration, known to many as the Bruggeman Method.
If you were to visit Eby's Mill at any time during these long-term management activities, you may not even notice we completed some of these large sections unless you have a keen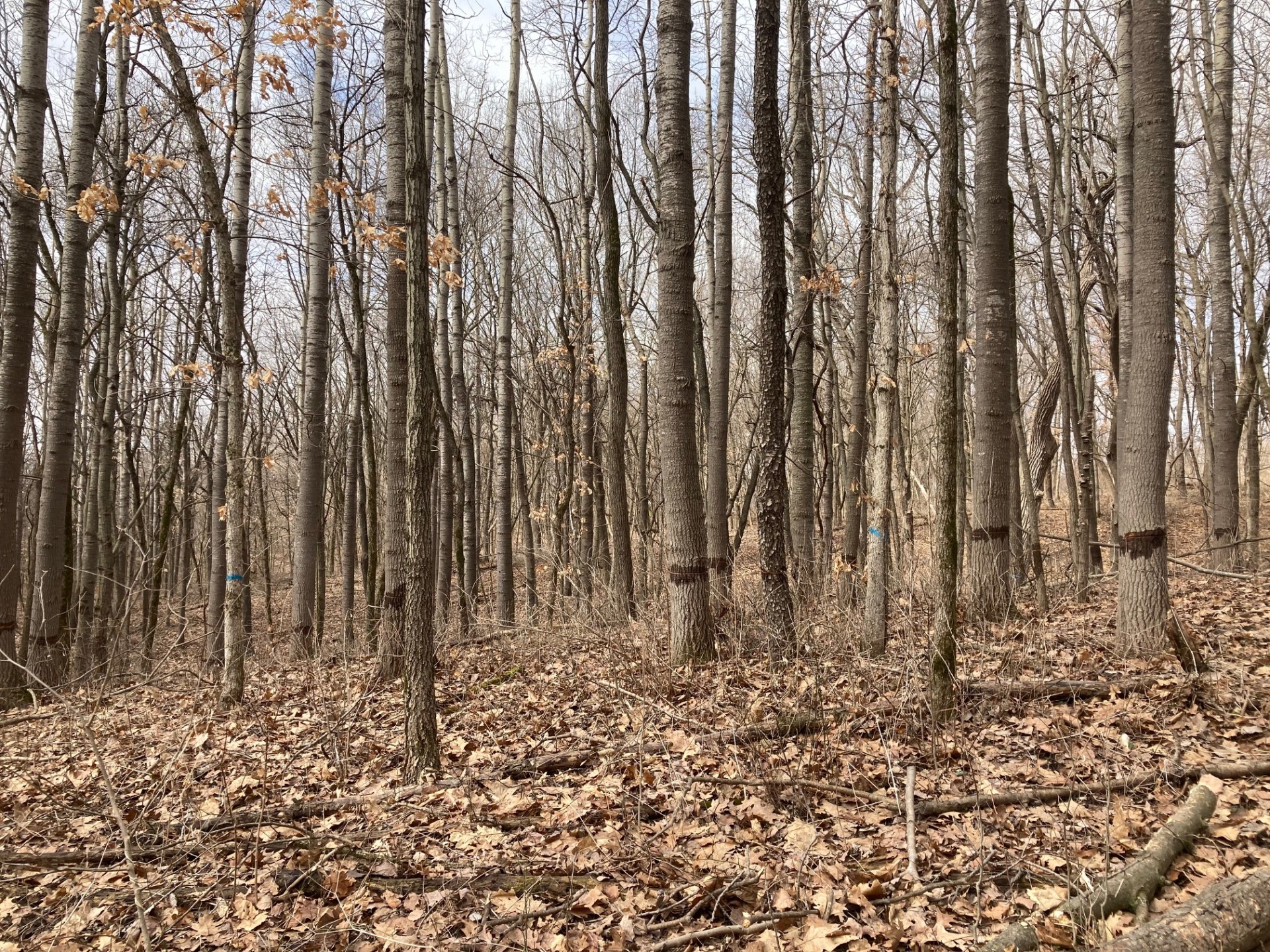 eye. This is because rather than cutting and felling entire trees, we are instead girdling trees we want to remove. Girdling trees involves taking a chainsaw to the base of the tree, about three to four feet up from the ground and cutting a ring around the tree 1-inch or more into the bark. Herbicide can be sprayed on the cut as well, but this effectively cuts off the trees abilities to move nutrient up and down the trunk between the leaves and the roots, killing the tree. The advantage to this method is that the tree can be left standing and die in place. Dropping each tree, we are removing would otherwise generate a very noticeable tangle of dead wood throughout the landscape. A standing dead tree still frees up a great deal of space in the canopy, it frees up nutrients in the soil bed; and even becomes a habitat tree for many insects, mammals, and birds to utilize for years to come until it eventually breaks down and collapses on its own.
Given the size of Eby's Mill Wildlife Area, approximately 525 acres, Jones County Conservation is tackling these improvements in sections roughly 50-100 acres at a time. Thinning acres of trees take a lot of time, especially with small crews. This past season alone over 20,000 trees were cut. Cutting sections will make thinning goals attainable, but will also help reduce the amount of overall disturbance to Eby's Mill over the next few years. Each season Jones County Conservation will continue to move to new sections and will stick to winter season cuttings. While this unfortunately means a section, each season might be occupied during hunting seasons, this timing reduces the likelihood of spreading any tree infecting fungus from damaging the woods or disturbing active nesting species of critical wildlife.
These management practices are expected to continue for the next several years to maintain a healthy population of these valuable hardwood species. We look forward to watching Eby's Mill Wildlife Area woodlands mature and continue to foster a variety of use by visitors and wildlife alike.
More News