2022 Iowa Healthiest State Month & Healthiest State Walk
posted on 9/28/22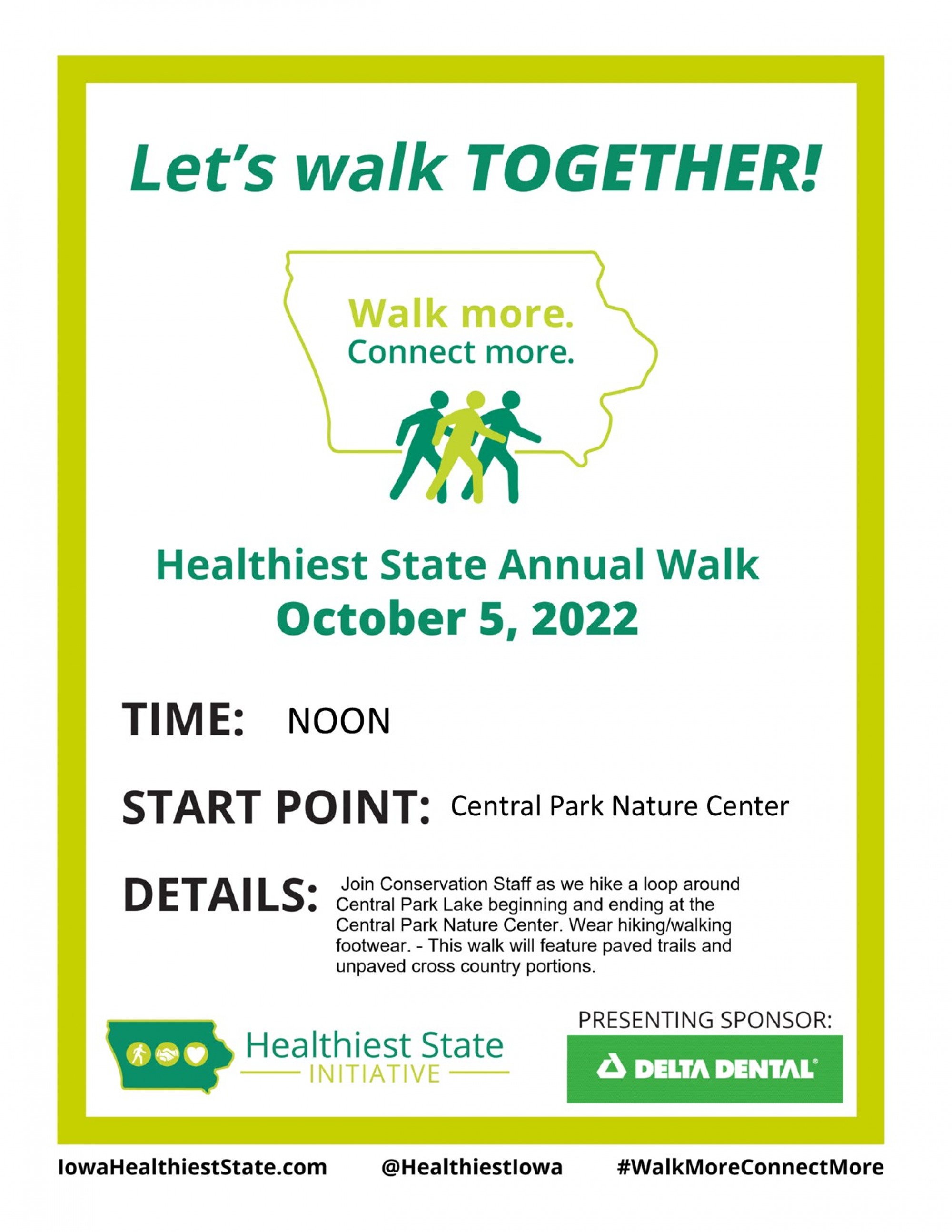 Did you know October is Iowas Healthiest State Month? Iowas Healthiest State Month is a fun, informative way to engage Iowans in the 5-2-1-0 Healthy Choices Count! Campaign. To learn more visit http://www.iowahealthieststate.com/
Week 1 Highlights: 1 Hour or more of Physical Activity Daily with the Healthiest State 12th Annual Walk in communities statewide on Wednesday, October 5th. This year Central Park is joining in with other communities to offer a location for interested walkers to take a hike! Join conservation staff members on Wednesday, October 5th at Noon in front of the Central Park Nature Center to take a hike around Central Park Lake. We'll be hiking on paved and grass/natural trails so if you join us wear appropriate hiking footwear. Enjoy the sights and sounds of autumn at Central Park as we visit and make our way around the lake.
Week 2 Highlights: 5 or More Fruits and Vegetables Daily. A diet rich in fruits and vegetables provides vitamins and minerals, important for supporting growth and development, and for optimal immune function in children and adults. High daily intakes of fruits and vegetables is associated with lower rates of chronic diseases such as heart disease stroke, high blood pressure, diabetes, and possibly some types of cancers. Did you know their are many types of edible squash including many pumpkins? This fall visit a local pumpkin patch to purchase and bake some squash! Baked pumpkin seeds are another fun fall treat. Visit PBS at https://www.iowapbs.org/shows/iowaingredient/recipes/squash for some yummy recipes. Don't miss the pumpkin lit StoryWalk® Trail at Central Park during the Central Park StoryWalk® Fall Festival on Saturday October 15, 5-8 PM.
Week 3 Highlights: 2 Hours or Less of Screen Time - Get outdoors and explore! Take a hike. Go fishing or hunting. Visit a pumpkin patch, apple orchard, or farmers market. Explore one of the many public parks near your home. Enjoy an outdoor sporting event. Research is showing that just being outside has many physical and mental health benefits. So get into the Outdoors!
Week 4 Highlights: 0 Sugary Drinks and More WATER! Sugar sweetened beverage consumption has increased dramatically - and so has the rate of obesity in adults and children. Water provides a low-cost, zero-calorie healthy beverage. Use a reusable water bottle to save resources. Central Park is proud to announce we have received a Rethink Your Drink grant through Delta Dental and have been awarded a water bottle refill station installed at the Central Park Nature Center. Now field trip participants, park users, and Nature Center visitors can refill their water bottles with healthy cool filtered water and reduce the need for disposable cups.
More News