OWL - Older Wiser Livelier Souls 2022 Events
posted on 1/21/22
Looking for some adult focused environmental education fun in 2022. Pick and choose which activities and events you want to participate in. OWLS - standing for Older, Wiser, Livlier, Souls is an environmental education focused partnership between Dubuque, Jackson, and Jones County Conservation departments. Yearly schedules can include day trips, 1/2 and whole day outings, and special speaker events throughout Eastern Iowa and local adjacent states. No membership is required.
2022 events include snowshoeing, cross country skiing, a hike to discover skunk cabbage, a day trip to Neil SMith National Wildlife Refuge, several evening hikes to Codfish Hollow Hill Prairie, a visit to "the Shack" to learn about Aldo Leopold, a Voyageur River Trip, paddling on the Wapsipinicon River, a foraging hike and dutch oven cooking class, and a fall colors outing on the Maquoketa River.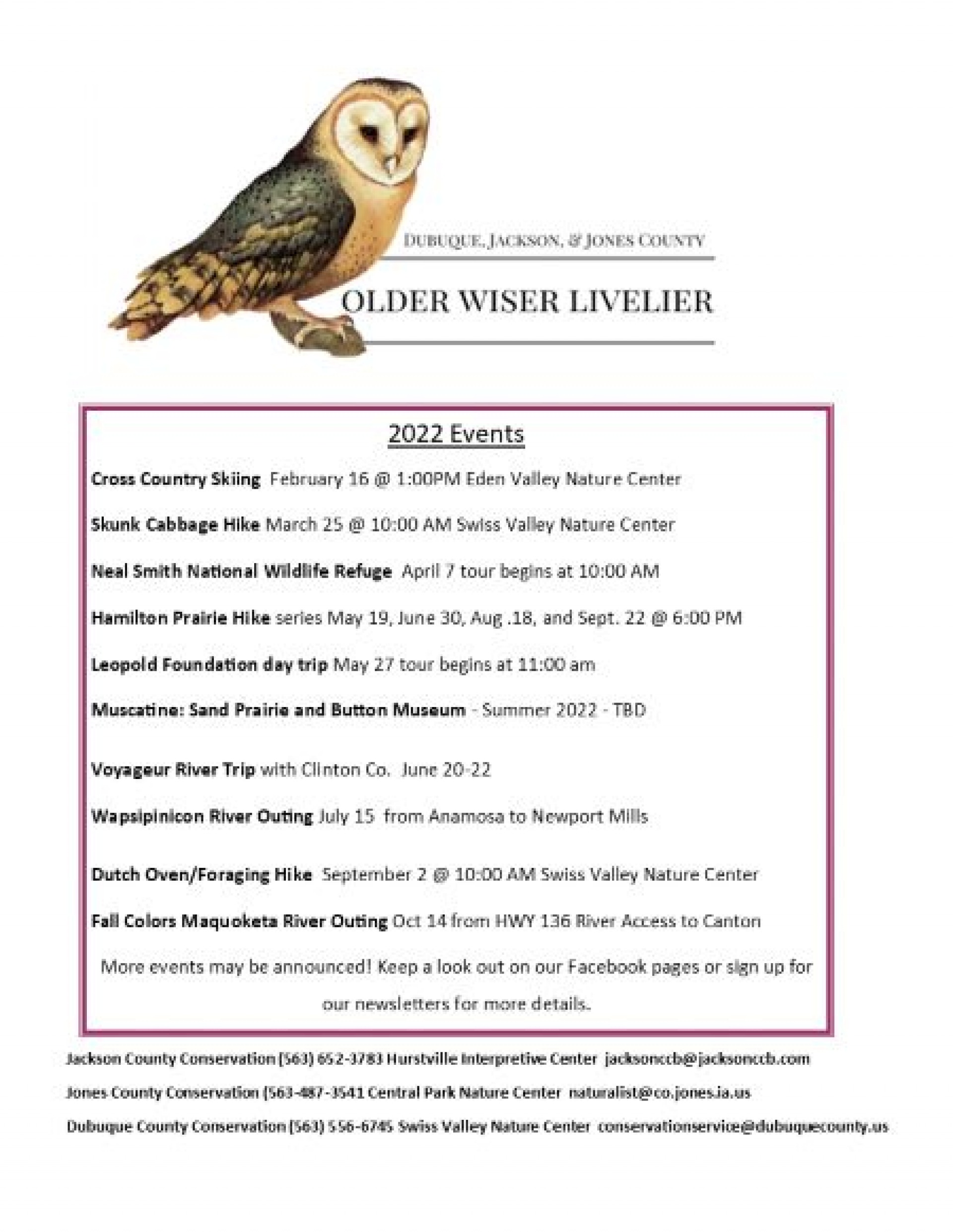 The next upcoming event scheduled is a snowshoeing outing at Whitewater Canyon on the afternoon of Thursday, February 3rd beginning at 12:30 PM . Reservations are due Jan. 28th for the OWLS" free snowshoeing experience at White Water Canyon in Bernard, Iowa on Thursday, February 3rd. Bring your own pair of snowshoes or borrow a pair of snowshoes from the CCBs. For more information or to make a reservation to snowshoe call (563) 652-3783 or email jen@jacksonccb.com.
More News